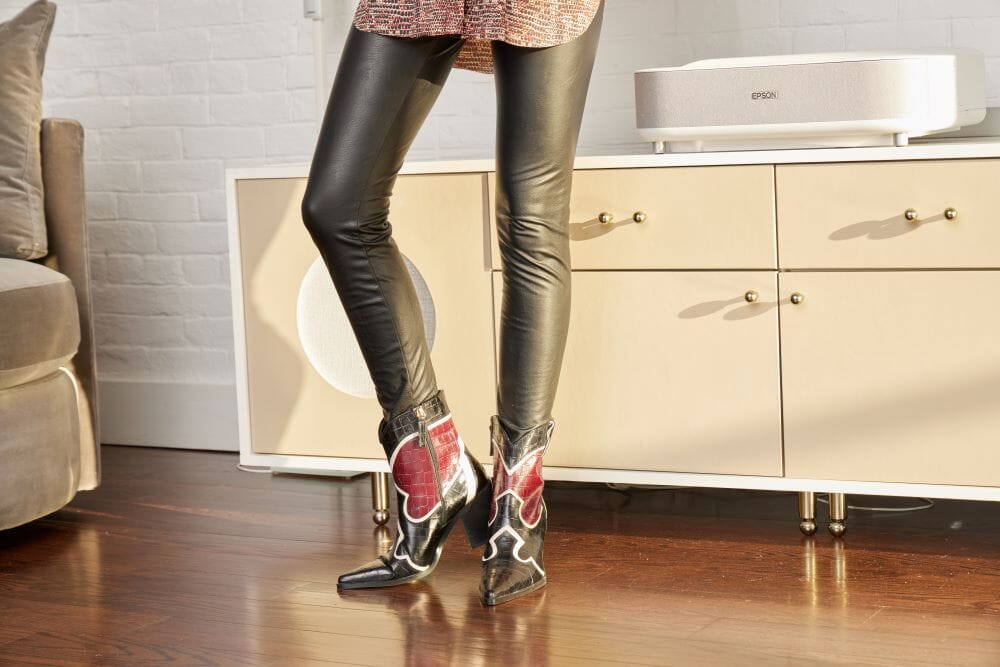 What Age Should A Woman Stop Wearing Leggings?
If you're wondering about the appropriateness of wearing leggings as an older woman or how to wear leggings over 70, you're in the right place. And our answer? Dressy leggings are the fashion statement that suits any age.

Comfortable, versatile, and fashionable, leggings have become a go-to for women of all ages — anyone who says older women shouldn't wear leggings or that leggings are out of fashion is, in our view, sorely mistaken!
 
However, the debate continues, and as fashion constantly evolves, the question is compelling: at what age should a woman stop wearing leggings? Or should she at all? We'll cover how to wear this timelessly comfortable clothing item and meet the latest trends, along with styling recommendations. So, whether you're in the super decade of the 60s or fabulously over 70, keep reading to learn how leggings help you stay stylish, sophisticated, and right on trend.
When Should a Woman Stop Wearing Leggings?
Wearing leggings is all about personal comfort and choice — there's no compulsion to wear them if you don't feel like it. But if you do, just think of today's leggings expressing your unique style and individuality.
 
From dressing up your leggings with a stunning blouse to dressing them down with a casual top for brunch with the girls, there is no magic number dictating when a woman should stop wearing leggings. It's more about flowing with the changes in your preferences and lifestyle to live a life without wardrobe restrictions.
Styling Tips For Women Over 70
Wondering how to wear leggings after the age of 70? It's all about finding that sweet spot of balance and sophistication! For added comfort and support, choose high-waisted leggings.
 
Team up and look trendy with longer tops or flowy tunics to create a chic and age-appropriate look. Darker shades, subtle patterns, and floral prints add a hint of style without looking overpowering. Explore different styles and accessorize until you find a look that works for you.
Should A 70-Year-Old Woman Wear Leggings?
Leggings are definitely a fantastic choice for fabulous 70-year-old women. If you're wondering how to wear leggings over 70, it's a perfect choice filled with comfort and confidence.
Choose leggings that have a great fit and that come with tummy control features to offer you extra support. Whether you're always traveling or have an active lifestyle, a comfortable pair of leggings is a relaxing choice. For a more formal look, complete the look with elegant tops, blouses, or tunics. Look wonderfully polished and stylish, whatever your age.
Should A 75-Year-Old Woman Wear Leggings?
By fusing traditional styles with a dash of modernity, there are now plenty of options for women over 75 who want to wear leggings.
Think of leggings as your wardrobe's best friend, adding comfort and versatility to the mix. Make every day a fashion adventure by teaming them with stylish blazers, classic blouses, and fun accessories to create a wardrobe that effortlessly transitions from casual to chic!
How Do You Make Leggings Flattering?
Trendy casual clothes for a 60-year-old woman is something you never need to worry about. It's all about choosing the right fit. The key to making leggings flattering lies in styling them thoughtfully by opting for high-waisted leggings that provide support and a streamlined silhouette.
 
Team up your leggings with longer tops or layer with tunics for added coverage. Darker tones and vertical patterns can also create a visually elongating effect, enhancing the overall flattery of the outfit.
When Should You Not Wear Leggings?
If you don't already have a killer outfit in mind, save your leggings for intimate gatherings or informal outings and avoid wearing them to fancier events or when you need to project a professional vibe. Additionally, it might be time to give your leggings a well-deserved break from the spotlight if they've seen better days or are showing a little bit more than you'd like.
Leggings can be an excellent starting point for a woman over 60 looking for fashionable casual attire. For a stylish and cozy look, pair them with chunky sweaters, chic sneakers, or ankle boots. Add trendy accessories like statement jewelry or scarves to dress up your casual attire.
Is It OK To Wear Leggings Everyday?
We all agree that leggings are like a warm and cozy hug for your legs, but constantly wearing the same styles and colors can be repetitive and dull the personality of your wardrobe choices. Since these fabulous fashion staples will definitely become a regular occurrence, why not add some variety?
 
Show how much of a fashionista you are with a variety of different outfits by combining them with other wardrobe wonders. Just make sure you enjoy wearing them and enjoy the variety added to your outfits.
What To Wear With Leggings Over 60
When it comes to creating a basic wardrobe for a 60-year-old woman, 2023 has been an interesting one. The question still remains: what to wear with leggings over 60? Why not try wearing your leggings with longer blouses, tunics, or trendy cardigans to keep your outfit chic and appropriate for your age?
 
To add an extra touch of sophistication, choose comfortable athletic footwear or ankle boots. Don't forget to add the finishing touch to your stylish look by accessorizing with statement accessories like chic scarves or timeless jewelry!
Celebrate Your Style Journey!
Age is just a number in the world of fashion! It is entirely up to you when to stop wearing your leggings. The key is to modify your look to fit your constantly changing tastes and preferences.
 
Leggings can be the adaptable and comfortable addition your wardrobe has been craving, whether you're savoring your seventies, planning a brand-new wardrobe for 2023, or searching for trendy casual wear. Wear whatever makes you feel fabulous and confident, and celebrate your style journey! Why not choose from our selection of Lysee leggings and see which ones you love?