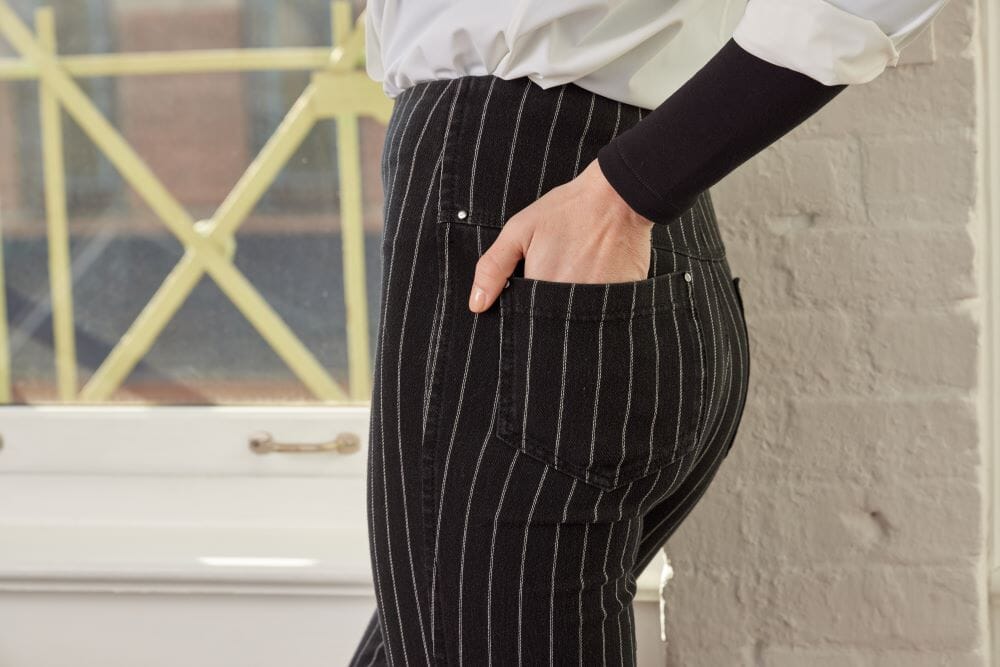 Best Body-Shaping Leggings For Older Women
For all the fashion enthusiasts out there, let's discuss the glorious magic that is leggings.

They've come a long way from just being workout gear or faux leather leggings to becoming casual daily wear and even part of formalwear with dressy leggings. In fact, they've now become the staple of every woman's closet — versatile, comfy, and just downright lovable.
 
So, let's shimmy into the world of the best body-shaping leggings for our fabulous ladies who've seen a few more sunrises. Comfort, style, or the perfect combo — we're about to spill the tea on dressy leggings that have your back (literally and figuratively). The secret tip? It's all about those high-waisted wonders that hug your gentle curves. But in a wonderfully flattering way!
 
These aren't your run-of-the-mill leggings. Think of them as the epitome of legwear exuding class, sophistication, and style. Imagine wearing leggings that effortlessly swing from casual chic to upscale elegance. With the best body-shaping leggings for older women, you can own any occasion with that perfect blend of comfort and glamor. Date night or a trendy get-together, discover the best leggings for women that will become the secret weapon in your style arsenal.
High-Waisted: Best Leggings For Women
Want to know the biggest secret about leggings for older women? Finding the best body-shaping leggings lies in opting for high-waisted designs. For older women, high-waisted leggings offer plenty of benefits.
They provide excellent tummy control, giving you a smooth and flattering silhouette for that sculpted and slim look. The higher rise also offers support to the lower back, making them a comfortable choice for all-day wear. 
Wearing Leggings: What Body Type Looks Good in Leggings?
The beauty of leggings is that they work with any body type. Whether you have an hourglass figure, a pear-shaped silhouette, or a rectangle body shape, there are leggings that can bring your natural curves to life and provide the shaping you desire.
 
The key thing to consider is choosing the right fit and style that suits your body type and works with the look you want. 
Do Leggings Look Good on Rectangle Body Shape?
100%! Leggings can be incredibly flattering on a rectangle body shape. The streamlined and smooth silhouette of leggings accentuates your legs, and when paired with the right tops or tunics, body-shaping leggings for older women create the illusion of curves.
Add definition to your waist and achieve a more balanced and shapely look with high-waisted leggings. 
Are High-Waisted Leggings Flattering?
Yes, yes, and yes! High-waisted leggings are not just a trend. They're a wardrobe essential, especially for older women. The higher rise on the waistline provides a supportive and flattering fit around the midriff, smoothing out any areas of concern. This style elongates the legs, creating a more proportionate and graceful look. 
What Is the Point of High-Waisted Leggings?
The point of high-waisted leggings extends beyond what's happening on the catwalk. It's about comfort, style, and confidence. High-waisted leggings offer extra coverage, making them an excellent choice for those who want more support around the waist.
Whether you're tackling a busy day at work, jet-setting on your next work trip, or enjoying a leisurely stroll, high-waisted leggings provide a secure and snug fit that lets you move with ease.
Finding the Perfect Fit: What Is the Best Brand of Leggings for Women?
When it comes to leggings, the market is flooded with options. To help you navigate this sea of choices, we've scoured the landscape among brands. We've found what to look for in the best body-shaping leggings for older women seeking comfort, style, and body-flattering benefits. 
What To Look For In The Best Leggings for Women
1. Look for unparalleled support and shaping to give you the best and most flattering figure.
 
2. A favorite among fitness enthusiasts, important things to consider in leggings are those that are designed with high-quality fabrics and thoughtful construction, providing both comfort and style.
 
3. Look for a brand that understands the diverse needs of women, so you'll want leggings that combine performance, style, and body-shaping features.
 
4. Leggings that feel and look like a second skin often have seamless designs that provide a smooth and sleek silhouette.
 
Choosing the best brand ultimately depends on your preferences and requirements, so take your time to explore and find the one that suits your style and body-shaping goals.
 
Be Divinely Confident When You Wear Leggings
Ditch the notion that all leggings are just yoga leggings or workout leggings. In the modern wardrobe, leggings are for everyday wear. Whether it's black leggings with ankle boots or leggings under a full-length dress, there is no one set way to typically wear leggings anymore.
 
Comfort and style are not incompatible in the world of fashion, especially when it comes to leggings. Confidence is the ultimate accessory as you set out to find the best body-shaping leggings for older women. Enjoy being able to express your individual style, whether you need the best leggings for work, choose high-waisted wonders, or decide to try out fancy comfortable leggings for their sophistication.

Whether it's comfy leggings, cotton leggings, stretchy, leggings, or leggings with high waist, it's time to re-evaluate what it means to feel and look great at any age. So put on those body-conforming leggings, hold your head high, and take on the day with confidence!