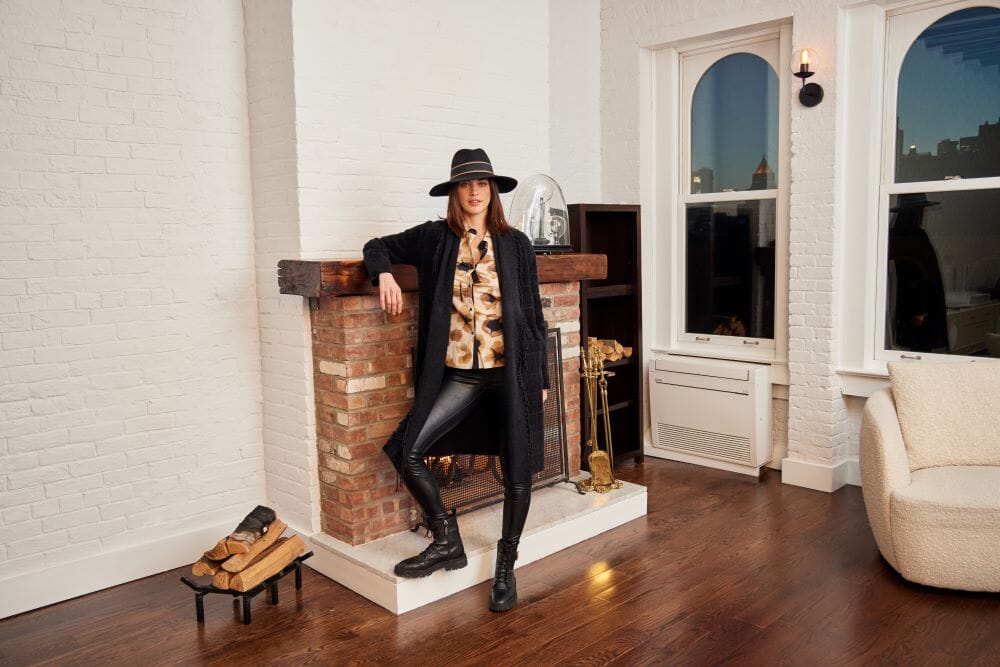 Best Leggings For Older Women: How To Style Leggings After 50
Leggings have come a long way from being activewear relegated to sweaty gym workouts. No more are leggings just confined to compression leggings, athleisure, and lounge attire. Now, casual leggings have been replaced by their celebrated and more warmly embraced counterpart — dressy leggings.

Comfortable, practical, and easy to wear wherever you go, leggings can be dressed up or down, depending on the occasion. In the past, leggings for older women were considered an almost scandalous fashion choice, but in recent years, they have evolved into versatile wardrobe staples suitable for women of all ages.
 
If you're an older woman wondering how to wear fashionable leggings and look fabulous in them, you're in the right place. We'll explore how to wear leggings over 50, what to pair them with, and the best options on the market, including leggings with pockets and fashion-forward designs.
How Should Older Ladies Wear Leggings?
Wearing dressy leggings as an older woman is a chic and comfortable choice involving choosing the right fabric, length of leggings, and colors. So whether you're brunching with friends or jet-setting off to a fabulous location, we have some tips on how to wear leggings over 50 the right way.
Choose Quality Fabric When Wearing Leggings
Before we even look at fit and styling choices, it's really important to emphasize how much the quality of the fabric matters. Invest in leggings made from high-quality fabric with good stretch without being see-through.

Fabric that remains opaque and doesn't show more than the world needs to see is what you're going for! So you're better off choosing fabric with a blend of cotton, spandex, and polyester for a comfortable fit that maintains its shape. 
Go For Full-Length Leggings
Length matters — full-length leggings are a classy choice for older women that gives them a look of refinement. With full coverage and long-length fashion leggings, your legs will look long and sleek while also being flattering and age-appropriate. Full-length leggings are also versatile, whatever they're worn with, and look great on a variety of shoe styles.
Go A Shade Darker (Or Two!)
Darker shades like black, navy, and charcoal gray are flattering and versatile. They create a slimming effect and can easily be dressed up or down with a variety of tops, dresses, and shirts. So, go a shade darker for a polished, slimline look.
How Do You Feel Comfortable Wearing Leggings After 70?
Age is just a number, and you can absolutely wear leggings after 70 with confidence. Make sure you're comfortable, wear a range of prints, layer up with different options, and choose flattering shoes to style your leggings.
Prioritize Comfort
You should always feel comfortable wearing leggings. That's why it's important to choose comfortable leggings that have a wide, elastic waistband for relaxed support, whether you're at home or outdoors. With busy lifestyles that take us across the country or even the world, you'll want to wear leggings that are unrestricted and flexible.
Embrace Prints and Patterns
Black leggings always play, but don't shy away from fun prints and patterns. Subtle prints on dressy leggings can add a touch of playfulness to your look, but there's no harm in trying out leopard, geometric, or floral prints, too.
Balance with Layers
Layering is key when wearing leggings after 70. Pair them with longer cardigans, duster coats, or lightweight jackets for a well-balanced outfit.
Stick to Flattering Shoes
Choose shoes that complement your leggings. Ballet flats, ankle boots, loafers, or comfortable sneakers are excellent choices that work well when paired with fashion leggings. Knee-high boots aren't out of the question, just rock them with confidence.
How to Wear Leggings Over 50?
50 is the new 30, but with an extra dash of confidence and fabulousness. That's why leggings for women, especially leggings for older women, are about rediscovering your personal style and enjoying the comfort of one of the best decades while being the best version of yourself.
Invest in Leggings with Pockets
Women finally have pockets in their clothes, and we are so here for it! For the epitome of practicality and style, leggings with pockets have revolutionized women's fashion. They offer convenience and functionality while allowing you to carry essentials, so there's no need to carry a bulky bag around anymore.
Mix & Match Textures
Go for variety and experiment with textures by pairing your leggings with knit sweaters, faux fur vests, or silk blouses. Mixing textures can make your outfit more interesting.You can also make the leggings the star of the show by trying eye-catching trends such as faux leather leggings or velvet leggings. 
Play with Proportions
Balance your outfit by playing with proportions. If you're wearing a loose top, opt for more fitted leggings, and vice versa. This creates a contrast of proportions and creates the impression of a sleek silhouette.
Accessorize Smartly
Accessories make all the difference to the outfit — and your leggings. Consider adding a stylish belt, a glitzy necklace, or a statement handbag to smarten up the look.
How Do You Wear Leggings and Look Classy?
We've all seen celebrities looking elegant and sophisticated in leggings, and we've cracked the code. Here are our tips on how to wear leggings and look classy.
Choose High-Rise Leggings
For extra coverage and support, high-rise leggings add a touch of class that ensures style and timeless sophistication.
Opt For Monochrome
Go for a monochromatic look! Pair your fashion leggings and a top in the same color family to achieve a super stylish and coordinated outfit that's both flattering, sleek, and elegant.
Add A Blazer
Wrap yourself in the elegance and classic smartness of a long blazer that's perfect for any occasion. Sprinkle yourself in the ultimate sophistication with neutral shades — ivory, beige, camel, and others — to bring out the best of your leggings ensemble. 
How Women Over 60 Should Wear Leggings
Leggings are for every age, and they're ageless. The best part? Women over 60 can rock them with style when they prioritize fit, add a pop of color, and explore the option of Ponte leggings. 
Prioritize Fit
Fit is everything, so you must ensure your leggings fit well. Snug is perfect, but overly tight is not — you want to feel comfortable and confident, not struggle to breathe or move. 
Explore Ponte Leggings
Want something more substantial than leggings? Ponte leggings are thicker and more structured, making them an excellent choice for older women. They provide a polished look that's perfect for going from work to evening wear. 
Add a Pop of Color
It's tempting to wear the same color as your leggings or keep your outfit muted, but a pop of color with fashion leggings adds vibrancy to your look. You'll look and feel brighter, whether it's a colorful scarf, top, accessories, or just an extra layer.
Layer with Confidence
Layering is your friend! Pair your leggings with long cardigans, dusters, or lightweight blazers to create stylish ensembles for a look that goes from cool summer evenings to sunny autumn afternoons.
How To Wear Leggings Over 50 In Summer
When the sun is out, the last thing you think about is wearing leggings, but did you know leggings are perfect in the summer for older women? When they're lightweight, shorter in length, and worn with airy tops, leggings work really well to keep you cool and stylish.
Choose Capri-Length Leggings
It's heating up, so full-length leggings won't work. Choose Capri-length leggings that end just below the knee for comfort without overheating. 
Select Lightweight Fabrics
As with every outfit in the summer, lightweight fabrics are the way to stay cool. Look for leggings made from breathable, lightweight materials. Fabrics like cotton and bamboo blends are ideal for summer and won't feel too thick or heavy on the skin.
Wear Flowy Tops
Get the airflow going! Pair your summer leggings with flowy tops made of lightweight fabrics. An airy sundress or a breathable blouse keeps you cool and comfortable on those hot summer days while keeping you looking like a style icon. 
Don't Forget Sun Protection
We all know sun safety is important and even more critical as we age. Stay sun-safe by wearing leggings with built-in UV protection. This added feature ensures your legs are shielded from harmful rays.
Is 62 Too Old To Wear Leggings?
Absolutely not! Age is no barrier to wearing leggings. It's all about how you style them. Follow the tips mentioned earlier to create outfits you love with your newfound wardrobe staple, so you stay right on track with style.
How To Wear Leggings With Big Thighs?
While we're grateful to be living in the age of body positivity where every body type gets appreciation, it's still okay to feel conscious about your thighs and want some coverage. We recommend you go for coverage, high-waisted leggings options, and vertical lines. 
Wear High-Waisted Leggings
When styling leggings with big thighs, opt for high-waisted options that provide extra coverage and support, helping to create a flattering silhouette.
Balance Out With Coverage
Pair your leggings with longer tops or tunics that extend past your hips to balance out your proportions and provide a chic, layered look. 
Choose Patterns
Consider leggings with patterns or vertical lines, as they can help elongate the appearance of your legs, making them look leaner and more shapely. 
What Should An Older Woman Wear With Leggings?
Pretty much everything goes with leggings. When deciding what to wear, consider your personal style and the occasion. Tunics, long blouses, and flowy dresses are your go-to options, while sweater and sweater dresses are perfect for when the weather arrives. Don't forget to accessorize and choose shoes and boots that complete your look. 
Who Makes the Best Women Leggings?
When it comes to finding the best women's leggings, several brands excel in terms of quality, comfort, and style. Some popular options include Lululemon, Athleta, Spanx, and Hue. Be sure to explore these brands to find leggings that suit your preferences. 
How Do I Choose the Best Leggings?
With so much choice available, you'll be feeling completely spoiled! Choosing the best leggings depends on your specific needs. Consider factors like fabric, fit, style, colors, and occasion. Don't forget to read reviews and try them on if possible to ensure a perfect fit. 
It's Time To Just Wear The Leggings
Leggings for older women are no longer controversial but a must-have addition to your wardrobe.
Leggings outfits offer not only comfort and style but also endless possibilities for creating fashionable outfits. Whether you're in your 50s, 60s, or beyond, you'll be right on trend with leggings and look fabulous while feeling at ease. Start exploring your options with a perfect pair of Lysee leggings today!