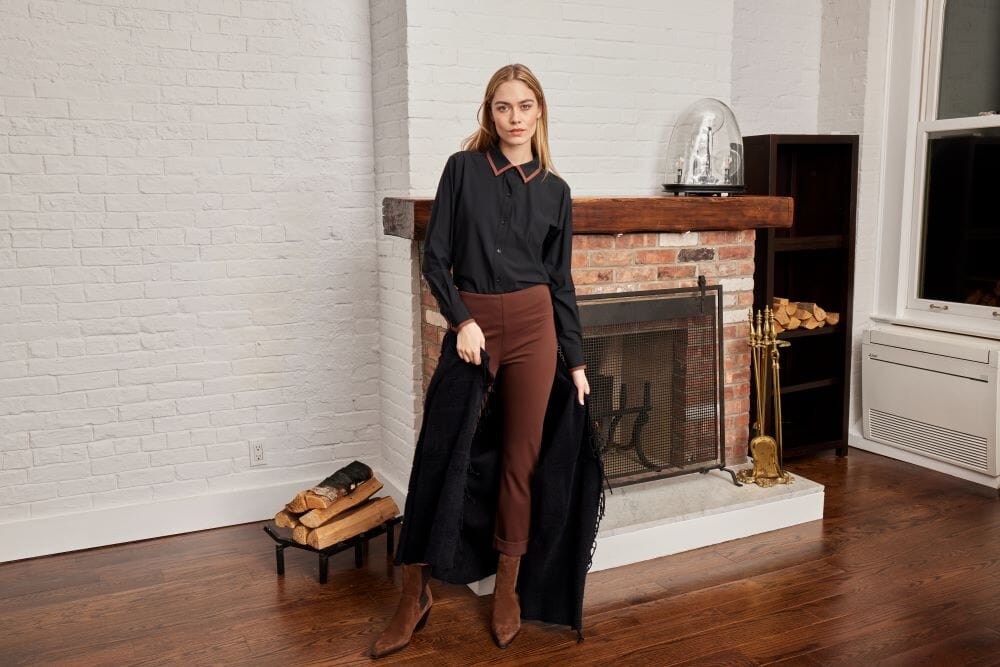 Best Ways To Wear Leggings Over 65
Ah, leggings – the unsung heroes of comfort and style! If you've hit the fabulous age of 65 and are wondering if it's time to ditch these snug and super-relaxing leisurewear wonders, think again. Leggings can be your secret weapon in the battle of fashion; they're not just for Pilates classes or short trips to the store. With dressy leggings making an appearance on the fashion pages, leggings are no longer solely considered workout gear.
 
Today, leggings are seen as a stylish item that can go with practically any outfit and an excellent way to update your look. We're here to provide you with some fashion-forward advice and demonstrate how to wear dressy leggings over 65. 
Best Leggings For Older Ladies: A Shopping Guide
Before we give you the lowdown on styling tips, we have got to discuss the most important thing — finding the best leggings for older women. Leggings are great, but you might want to look out for a few things that distinguish quality leggings from cheaper versions, including leggings that offer plenty of support without compromising comfort. High-waisted leggings are a great choice as they provide a flattering silhouette while offering extra coverage.
 
For extra comfort, leggings with a wide waistband ensure they stay in place without digging into your skin. Fabrics like ponte or thicker cotton blends add structure, making them suitable for all kinds of occasions. So you can dress your leggings up or down — however you want. But let's keep in mind that leggings are not a one-size-fits-all garment, even if they seem that they may be. Finding the right pair might take a bit of trial and error.
Best Ways To Wear Leggings Over 65: Female Edition
Now, let's get down to the fun part – styling! Here are some of the best ways to wear leggings over 65 — female-friendly for the ultimate comfort and style. 
Casual Chic With Oversized Sweaters
Match up your favorite leggings with an oversized sweater for the ultimate in casual chic. This vibe? It's totally spot-on for a chilled-out weekend brunch or a snug movie night. Neutral tones? They're the secret to pulling off that laid-back, stylish charm without breaking a sweat. 
Athleisure Elegance
Who says athleisure is only for the younger crowd? Boost your athleisure game by pairing leggings with a stylish bomber jacket and comfortable sneakers. This outfit look is perfect for a casual day out or even a quick coffee catch-up with friends. 
Layered Perfection
Mix up your outfit with layers by adding a long cardigan or a duster jacket over your leggings. This not only adds a touch of sophistication but also keeps you warm during the cooler months. Play with textures and colors to create a visually appealing ensemble. 
Monochrome Magic
Create an illusion of height and slenderness by opting for a monochromatic look. Match your leggings with a top in a similar shade, and throw on a contrasting jacket for a pop of vibrance and color. Monochrome styling is not only stylish but also incredibly flattering.
Is It OK To Wear Leggings Every Day?
There's no question about it. Leggings are your daily style companion if you want them to be, but as with anything, moderation is key. Mix and match between different styles, prints, and colors to keep your look fresh and new each time. When it comes to wearing leggings daily, make sure they're appropriate for the occasion. This brings us to our next point… 
What To Wear With Leggings To Work
Transitioning leggings from casual to work-appropriate attire is a breeze. A crisp, long button-down shirt goes a long way with a tailored blazer for a polished office look. To look work-ready, neutral colors and sophisticated accessories exude professionalism while staying comfortable throughout the day at the office. 
How Do You Wear Leggings in Hot Weather?
Beat the heat with breathable fabrics! Go with lightweight leggings made from moisture-wicking materials to keep you cool. For maximum airflow, flowy tops or tunics are your go-to. Don't forget to accessorize with a wide-brimmed hat to keep you protected from the sun and stylish sunglasses for a touch of glamor. 
How Do You Wear Leggings in Cold Weather?
Winter is no reason to say goodbye to your beloved leggings — in fact, there's even more reason to wear them. For the best ways to wear leggings over 65 in winter, layer them up with cozy knit sweaters, long coats, and knee-high boots.
 
Thermal leggings are a lifesaver in colder months, providing an extra layer of warmth without sacrificing style. Top off your winter leggings ensemble with a trendy scarf for an extra dose of chic. Additionally, wear your leggings under trousers or jeans for the super-cold days.
When Should You Not Wear Leggings?
While leggings might be tempting to wear all the time, there are a few situations where they might not be the best choice of clothing. Avoid wearing leggings to very formal events unless you can dress them up appropriately. Additionally, steer clear of overly sheer or worn-out leggings to maintain a polished appearance and to avoid showing more than you intend to.
Why Not Wear Leggings
Leggings are an extremely versatile and practical addition to your wardrobe, but like any fashion piece, they have their time and place. Avoid wearing leggings in situations that demand a more structured look. With leggings, it's essential to find the right balance between comfort and appropriateness. 
Leggings – Your Style, Your Way!
The best ways to wear leggings over 65 are limited only by your imagination. Whether you're stepping out for a casual stroll, conquering the corporate world, or embracing the winter chill, leggings can be your trusted companion. Experiment with different styles while choosing comfort, and let your personality shine through your fashion choices. Age is just a number, but your style knows no bounds. So, go ahead, slip into those leggings, and show the world that fashion has no expiration date! Shop our collection of leggings here!