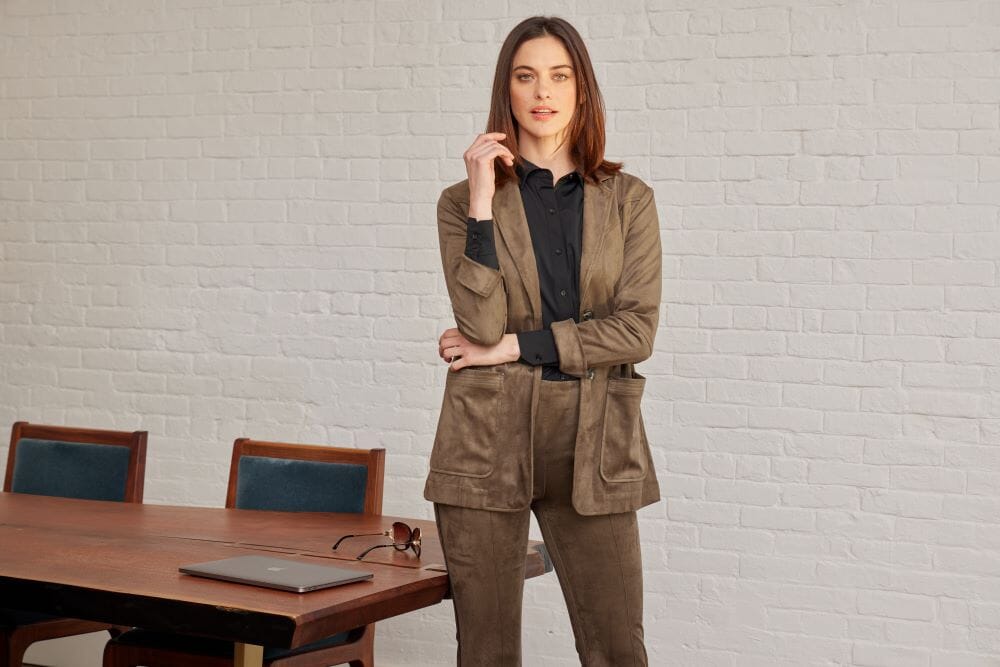 Can we take a moment to acknowledge how great leggings are? They were once exclusively part of gym wear, but those days are long gone. They have evolved into the legends of our wardrobes, being as at home at a sophisticated soirée as they are on a casual stroll.
 
Dressy leggings (like classic black ponte designs) are the super-versatile staple we didn't know we needed, able to go from casual chic to high-key formal. Let's introduce dressy leggings, the overlooked heroes of our closets. Comfort? Check. Style? Double check. Every woman on the go needs them.
 
Let's explore dressy leggings as professional wear for the workplace. Here, we will look at how your favorite pair of leggings can empower you to remain fashionable and comfortable at work, taking this wardrobe staple from everyday casual leggings to a sharply dressed work outfit.
Are Leggings Appropriate for Work?
Are leggings appropriate for work? That's the million-dollar question buzzing around the water cooler, right?
 
Well, let's settle this once and for all. Spoiler alert: you can wear leggings in the office, and we're here to tell you how to do it in style!
What Kind of Leggings Are Appropriate for Work? Womens-wear Tips!
So, you're eyeing your collection of leggings and wondering which ones can join your office wear collection. Professional leggings for work are not an urban myth — they're real, and they're fabulous. Leggings, with their versatility, can be dressed up or down into classy and stylish attire with just a few style choices.
 
The secret lies in finding leggings that are comfortable yet elegant. Think of them as your style sidekick, effortlessly taking you from casual coffee runs to that important boardroom meeting.
 
The best leggings for work offer the perfect blend of comfort and sophistication, ensuring you're ready for anything the workday throws at you. For example, black leggings or leggings with a high waist are great options. Let's break it down a bit more!
Are High-Waisted Leggings Flattering?
Oh, absolutely! High-waisted leggings aren't just a fleeting fashion trend. Leggings are an absolute must and a non-negotiable essential in your wardrobe. That higher waistline isn't just there for show. Consider it your secret weapon, providing support and a flattering fit around your midsection to skim over the troublesome areas.
 
However, leggings are absolutely perfect for one thing — the illusion of longer legs! Yes, you heard it right. These leggings aren't just shaping or about a slim figure. Great leggings do the job of sculpting your shape in one of grace and proportion. Whether you're an hourglass, a pear, or a rectangle body shape, high-waisted leggings are the versatile stylists that go with anything.
Dress To Impress At Work...Ditch the Faux Leather
Wondering how to transition these fabulous, fashionable must-haves from the runway to the office's main stage? High-waisted leggings for work are the lesser-known office heroes. Pair them with a shirt, slap on a jacket, or curl up in a sweater. Not only are they fashionable and sleek, but they also provide you with the confidence you need to survive the busy jungle of the workplace.
 
So, whether you're looking for the finest leggings to crush your fitness regime or the best leggings for work outfit for that all-important presentation, leggings are here to save the day when it comes to wardrobe choices. There are several alternatives available that may be tailored to fit your body type and personal taste.
How To Wear Leggings To Work — 2023 Fashion Insight
Ever wondered why leggings have become the secret weapon of professionals seeking comfort and style at work? Well, hold onto your chic and snazzy blazers because high-waisted leggings are here to redefine the game. Offering a heavenly blend of comfort, style, and confidence, these leggings provide extra coverage and support around the waist, making them the main star of your work wardrobe.
 
Whether you're jet-setting for business, conquering your to-do list with errands, or just enjoying a leisurely stroll along the beach, high-waisted leggings ensure a secure and snug fit but with plenty of stretch that allows for freedom of movement. If you're on the lookout for the best leggings to work outfit, high-waisted leggings are your golden ticket.
How To Dress Up Leggings For Work
Ready to take your leggings from casual to boardroom chic? It's all about the right accessories and clothing choices. Here are some of our favorite ways to style our leggings: 
Tailored Blazer Extravaganza
Upgrade your leggings into a sophisticated work ensemble by pairing them with a well-tailored blazer in a complementary color. Talk about instant polish! Your leggings just transformed from 'casual cool' to 'office powerhouse.' 
Statement Necklace Magic
Draw attention away from the casual nature of leggings by making a statement with your accessories. Enter the world of statement necklaces! They not only add a touch of glamor but also become the focal point of your outfit. Who said leggings can't be the star of the show? 
Shoe Game Strong
Choose stylish shoes that are on-trend and balance the comfort of leggings with a dash of sophistication. Closed-toe shoes like classic pumps, loafers, ballet flats, or ankle boots – take your pick! Your shoe game will become the talk of the office, and comfort has never looked so good. 
Tunic Elegance
For an effortlessly elegant look, let a structured tunic fall gracefully over your leggings. It not only provides an elegant silhouette but also adds that extra element of sophistication. Comfort and style? Consider it a done deal! 
What Top To Wear With Leggings To Work
Let's talk tops! Achieving a stylish and professional appearance that's work-appropriate is all about finding the perfect match. Here are some top suggestions for what to wear with your leggings: 
Longline Blouse Magic
To achieve a stylish and professional appearance, the right top is crucial. A longline blouse with a tailored fit is an excellent option. It not only provides coverage but also maintains a smoothly stylish look that's perfect for the office runway. 
Wrap-Style Wonder
A wrap-style top is your secret weapon for complementing leggings beautifully. Cinching at the waist creates a flattering shape and adds an extra layer of elegance to your outfit. Who knew you could wear leggings and look classy?
Sweater Blazer Bliss
For a cozy yet professional vibe, consider a sweater blazer. It combines the structure of a blazer with the comfort of a sweater, giving you the best of both worlds. 
Tunic Sweater Timelessness
Looking for both coverage and warmth? A tunic sweater is your go-to option. Choose a chic design, pair it with your leggings, and voilà – you've got a timeless office look that's as comfortable as it is stylish. 
What Leggings Don't Wrinkle?
Wrinkles on leggings? Nobody has time for that, especially when you're conquering the office! So, if you're on a mission to find the best leggings to wear to work, here's the golden rule: pick high-quality leggings crafted from durable, wrinkle-resistant fabrics.

A day at the office where your work leggings stay sleek and wrinkle-free from the morning hustle to that afternoon power meeting — that's the brilliance of high-quality leggings. Seek out brands that are not just about fashion but are also warriors in the battle against wrinkles.
 
When you're on the hunt for the perfect professional leggings, look for brands that prioritize both performance and style. It's all about that seamless fusion – stretchy leggings that can keep up with your dynamic work life while making you look like a style icon.
From boardroom presentations to post-work happy hours, your leggings should be your trusty sidekick, keeping you polished and put together.
The No-Wrinkle Guarantee
Wrinkle-resistant leggings are your secret weapon for always looking on point. Whether you're rushing between meetings, sitting at your desk, or conquering your to-do list, these leggings will keep you looking effortlessly stylish. 
Can Leggings Pass as Dress Pants?
Leggings are a stylish replacement for formal pants in the office that will up your glam factor! For that unbeatable look, choose high-waisted, high-quality leggings that resemble classic dress pants.
 
To wear a chic, work-ready look, pair them with elegant shirts, fitted jackets, and accessories. These leggings are not only suited for the workplace — they are also your new wardrobe essential, guaranteeing that you tackle every weekday in style and comfort.
What Leggings Can Be Worn as Pants?
Revolutionize your work wardrobe with leggings that redefine office chic! These premium, opaque leggings, which were made to seem like traditional pants, have a polished finish to ensure that you exude professionalism.
 
To create the ideal office-ready outfit, pair them with stylish shirts and add a dash of professional accessories. We assure you that wearing these leggings will increase your work confidence in addition to your choice of dress. Improve your appearance without effort and take the office by storm!
Are Leggings Appropriate for School (Adults)?
Who said that leggings were just appropriate for work? In every situation, wear leggings for elegance and comfort, whether you're a student or a teacher. By finding the ideal mix between ease of wear and style, you'll be able to effortlessly follow school dress rules.
 
Our business-appropriate leggings are your versatile, go-to friends for every event — they're not only for the workplace. Let your leggings be the fashionable statement you make wherever you go, demonstrating how well fashion and comfort can coexist! Our leggings will keep you comfortable, whether it's for work or school.
Enrich Your Work Wardrobe Wearing Leggings
The greatest leggings for a day full of energy will revolutionize your work wardrobe! With the comfort and sophistication of professional, dressy leggings, you'll look and feel confident at work.
 
High-waisted leggings for work, the foundation of stylish business outfits, are the key to achieving a pleasing, sleek style. Explore our collection of professional leggings for work and discover the best leggings for you to wear to work in 2023 and beyond.