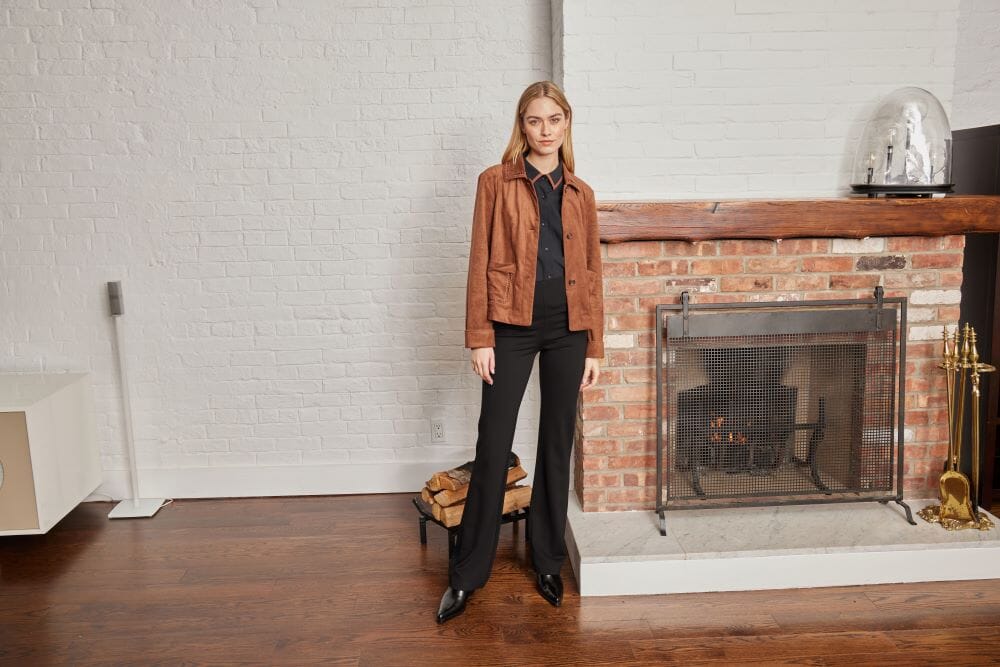 Are Leggings Okay For Business Casual?
Ah, the superb comfort of leggings — that humble staple sitting in our drawers and nestled at the back of our wardrobes, the go-to for lazy Sundays, and the natural choice for workout sessions. But can these snug staples be a sophisticated choice for business casual and office wear? We bring you the secrets of making black leggings business casual and becoming adept at the art of business casual leggings outfits.
 
We're ready to help you redefine comfort and style in the workplace. Step into the office in your favorite dressy leggings. Once confined to casual settings, leggings will add a touch of comfort to your corporate wardrobe without compromising on professionalism or style.
Read more and be part of this fashion revolution. Put leggings at the forefront of corporate chic and make a bold statement with every confident step you take in the workplace.
Are Leggings Considered a Casual Dress Code?
It's the age-old debate — can leggings be considered casual? The answer is a yes — but with many caveats. As mentioned earlier, leggings are a casual wardrobe staple, perfect for lounging in on quiet evenings or hitting the gym for a sweat sesh. However, the true secret lies in creating an ensemble that oozes class, comfort, and casual professionalism.
 
Depending on the industry you work in, the company you work for, and the type of work you do, leggings can be made a part of your business casual wardrobe without needing too much tweaking or becoming a daily fashion headache. Without a doubt, leggings are so versatile that they can go from being part of a casual dress code to being perfect for a busy day working away.
Are Leggings Considered Business Professional?
Could leggings be considered business professional? In the realm of power suits and formal attire, leggings might seem like the odd one out. However, the changing tides of workplace fashion are making room for smart, tailored leggings that bridge the gap between comfort and professionalism. 
Are Leggings Appropriate for Business Casual?
Drumroll, please – are leggings appropriate for business casual? The verdict is a solid yes! With a touch of thoughtful styling, leggings can easily slide into the business casual arena, offering a versatile and comfortable alternative to traditional office wear. 
What Leggings Are Business Casual?
It's easy to say, 'Pick any pair of leggings,' and that's enough to be business casual, but there are preferences for the right pair to ensure they're office-friendly while staying comfortable.
So, which leggings, in particular, fall into the business casual category? It's pretty simple — black leggings. Classic, easy to find, and perfect for any occasion, black leggings with a thicker fabric and tailored design are the ideal choice. Not only do they work with any outfit choice, but black is a preferred color for professionalism.
 
Our key tip: Treat leggings as a foundation and build your work outfit around it with layers for a polished look of perfection.
How Do You Wear Leggings to Work?
Knowing how to wear leggings to work takes skill, but lucky for you, we're here to help you get started. Start with the leggings, and as mentioned earlier, choose black leggings to give you more outfit choices. For a chic business casual leggings outfit, match up your black leggings with a longer top. Think tunics, blouses, stylish dresses, and dress shirts that hit the knee or lower.
 
For a touch of class and an extra-professional look, layer with a smart blazer or sophisticated cardigan.
Read more about leggings for work here.
Women Flare Leggings Business Casual Look
Flare leggings? Who ever heard such a thing? Turns out they exist, and they're right on trend! Women's flare leggings work well for a business casual look. Flare leggings add a slimming look to your legs and shape your outfit, especially when worn with shorter tops.
 
Make a fashion statement and pair your flare leggings with a fitted top. And, of course, we'll never say no to adding a blazer for that effortless transition from summer to winter.
Business Casual Leggings Outfit: Summer - Winter Seasonal Switch
Seasons change, and so does our wardrobe. Luckily, the business casual leggings outfit is a chameleon that exudes versatility and effortlessly adapts to both the Summer and Winter seasons.
 
When the warmer months arrive, lighter fabrics and breathable tops work well with leggings. Once the months roll into wintry weather, cozy sweaters, stylish jackets, tailored wool coats, and a pair of smart ankle boots will keep you super-warm, especially when worn with thermal leggings.
Show Off Your Business Casual Leggings Style
If you're ready to take the step with a business casual leggings style, now is the time. Open up your wardrobe and look at the clothing you own to create the desired fashion look. Experiment with different styles and colors to create your signature business casual look.
Whether you opt for the classic black leggings business casual vibe or choose to explore the uber-chic world of flare leggings, it's really important to remember that confidence is your best accessory.
Conquer the workplace with business casual leggings and stride into the office, knowing that comfort and style co-exist. Shop our selection to find your perfect pair of business casual leggings.