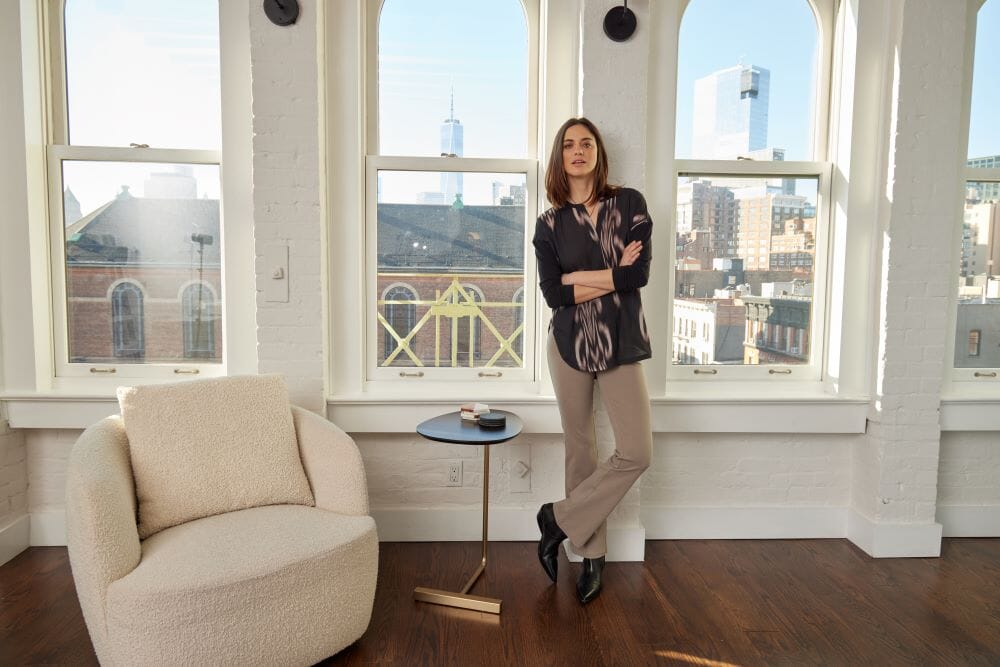 Business Casual Leggings Outfits
If leggings are your trusty companions of comfort, then you'll be happy to know that they've found their way into the office as part of business casual dressing. While business casual depends on where you work, the country, the industry, and the company's dress code, it's generally the sweet spot between formal and casual wear. It's where suits and ties take a backseat and are replaced by a more relaxed, chilled, and yet office-approved wardrobe. For women, think skirts, blouses, cozy sweaters, and, surprisingly, dressy leggings, provided they're in a solid color and work nicely with a longer top.
So, can you really wear dressy leggings for that important meeting, presentation, or creative brainstorming session? The answer is resoundingly yes. Most companies are on board with dressy leggings as business casual but with a sprinkle of conditions and caveats. Our expert advice? Wear leggings that are thick, tailored, and oozing with comfort. Steer clear of tight, see-through, holey, or thin material leggings. The golden rule to remember: leggings aren't pants, so if in doubt, choose caution over a fashion faux pas.
 
In this article, we'll navigate the delightful labyrinth of business casual leggings outfits with a bunch of tips and tricks so you can wear leggings with confidence and still look professional in the office. Whether you've been wearing leggings for years or are a curious skeptic, buckle up for a journey into the stylish side of business casual.
Dressy Leggings: Blurring the Lines
Leggings as business casual? Women might raise eyebrows, given all the fashion strictures placed on them in the past, but the evolution of workplace attire has blurred the lines between formal and casual.
In the United States, business casual typically steers clear of jeans, shorts, and t-shirts. For women, it often includes slacks, blouses, button-down shirts, and so much more. Leggings can fit into this category, opening up new possibilities for comfortable yet professional outfits. 
What Is Business Casual Attire?
Business casual is a dress code prevalent in workplaces where traditional suits and ties aren't the norm. Defining business casual precisely can be challenging, as it varies based on industry, company culture, and geographic location.
In essence, it strikes a balance between professionalism and comfort — a style that is less formal than traditional workwear yet suitable for an office setting.
Can You Wear Leggings For Business Casual?
Whether it's a dress-down Friday, a casual day at the office, or a client meeting, wearing leggings in a professional setting will understandably feel like a fashion conundrum. The business casual world is a delicate balance between formal and laid-back and is open to a broad spectrum for interpretation.
Choose from skirts, slacks, blouses, and button-down shirts to coexist harmoniously with leggings if they adhere to a few style guidelines. For your best and most versatile option, black leggings business casual is a standard style choice, and we'll talk more about how to put them all together.
How To Dress Up Leggings
The magic formula for business casual leggings outfits lies in the fabric and cut. Opt for leggings crafted from thicker materials, providing structure and a polished appearance. Remember, leggings aren't standalone pants — they're best friends with longer tops.
Avoid the pitfalls of tightness, see-through mishaps, or the dreaded holes and rips. Your leggings should exude professionalism, steering clear of any thin or overly casual vibes. 
What Should You Not Wear For Business Casual?
While leggings can undoubtedly play a starring role in your business casual environments, there are a few pitfalls to sidestep. It's a firm 'no' to overly revealing leggings—leave skin-tight or hole-ridden styles for your leisure days.
Short tops that ride the line of appropriateness are another landmine to avoid. The mantra here is modesty, ensuring your legging outfits maintain that delicate balance between comfort and corporate flair. 
Is Wearing Leggings OK For An Interview?
Job interviews are the arena where first impressions reign supreme. But can leggings find a place here? The answer hinges on the nature of the job and the company culture. In creative or tech-driven industries, leggings are acceptable.
However, for more formal workplaces, it's advisable to err on the side of caution and opt for traditional interview attire. Remember, your goal is to present yourself as the perfect fit for the role, and attire plays a crucial part in that narrative.
What Is Fashionable To Wear With Leggings?
If you're keen to stand out and make a fashion statement with leggings, you have a world of possibilities. Exude professionalism and look at the complete image of the corporate woman with a sophisticated blazer or a cardigan.
Make sure you're strategic with your accessories and don't over-accessorize either when you style leggings. Think scarves, necklaces, or a pair of chic earrings for a touch of class. Fuse comfort with style in your choice of shoes. Keep the look minimal but timeless. 
What To Wear With Leggings To Work
Wondering how to wear work outfits with leggings? Wonder no more because we have a ton of suggestions and practical tips.
 
The key is ensuring you select the perfect pair of leggings, so make sure you choose thicker fabric, a well-tailored look, and ensure they meet the office dress code with the appropriate fit and coverage.
 
We've all heard the saying over and over again that leggings are not pants. For a smart and work-appropriate look, leggings for work should be paired with longer tops, blazers, or cardigans to make them appropriate for business wear.
Some basic leggings outfit ideas to think about:
 
Pick leggings with a tailored design, style, and thicker fabric.
Choose solid colors instead of tight, transparent, or torn leggings.
Add some polish to your appearance with a jacket, cardigan, or blazer.
Include a touch of sophistication with accessories like scarves or necklaces.
Wear Closed-toe shoes like loafers or ankle boots to complete the look.
Strut Your Professionalism With Confidence
Now that we've addressed some of the dos and don'ts of wearing leggings as business casual, it's time to think about opening up the wardrobe and putting together some chic and stylish office wear with your newest wardrobe staple — leggings!
Strut into the office with confidence, knowing you've mastered the art of business casual leggings outfits. Browse our range of leggings to find the perfect pair for your next business casual day.