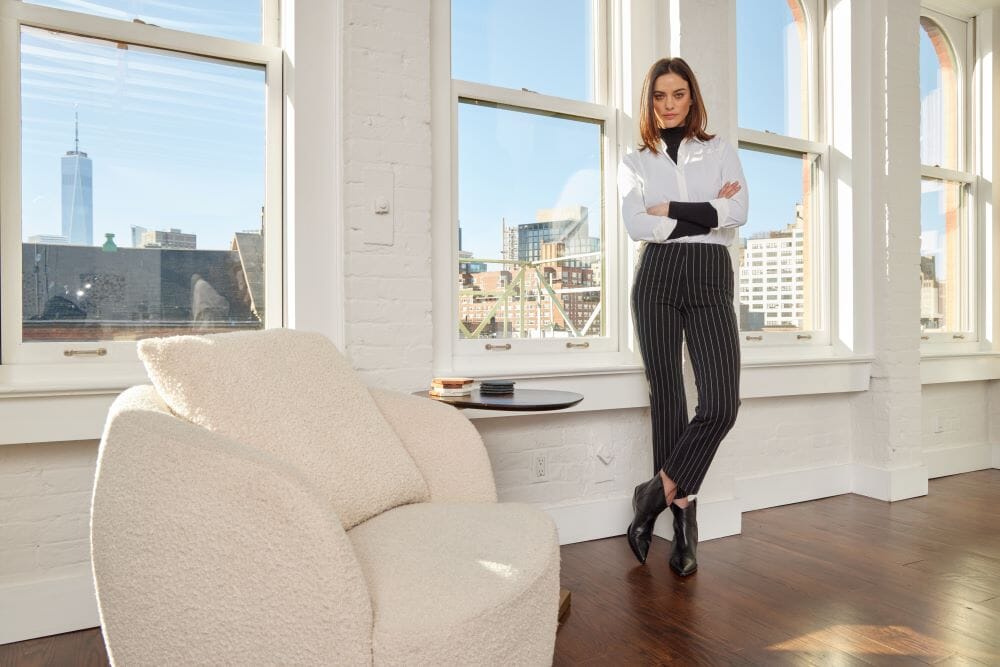 Should A 50-Year-Old Wear Leggings?
Wondering if you should wear dressy leggings as an older woman? It may seem like the answer is no, but the reality is that this beloved wardrobe staple has gone from fitness wear to everyday chic. Often at the center of fashion debates, leggings for older women are the topic of this article.
 
We'll be looking at dressy leggings, the best leggings for older ladies, how to wear leggings casually, and the kind of dressy tops to wear with leggings. You'll also discover the perfect shoes to wear with leggings over 50 and tops to complete your stylish ensemble. So keep reading to find out more.
Should 50-Year-Olds Wear Leggings?
This is entirely up to you and what you're comfortable with. Age is just a number, but it's always down to what makes you happy when it comes to fashion.
 
Leggings are perfect for older women as they are versatile, comfortable, and, with the proper styling, will absolutely put you on trend — in an age-appropriate way, of course! The key is understanding how to wear them to give your style some oomph while ensuring comfort.
How To Wear Leggings Casually?
Casual wear is where leggings truly shine and bring out the best of fashion. Wearing an oversized sweater or a comfy long top creates a relaxed and laid-back look for those chilled-out days.
 
Neutral colors bring out a classic and timeless appearance, while prints and patterns inject some fun into your outfit. Leggings are a fantastic alternative to jeans or trousers, offering flexibility and ease of movement, making them ideal for a day of errands or a casual coffee date with friends.
Tops To Wear With Leggings
Choosing the perfect top to go with your leggings is the problem we all face because the options are endless. Longline tops, tunics, and flowy blouses in floral prints and gorgeous patterns will look stunning with your leggings, and they have the right amount of coverage just where you want them while adding a touch of sophistication.
 
Experiment with textures, patterns, and different necklines to create a look that suits your personality. Balance out the proportions — if your leggings are more fitted, go for a looser top, and vice versa.
Should 60-Year-Olds Wear Leggings?
There's no age limit to fashion, and that certainly includes the fabulous 60s. The question of whether a 60-year-old should wear leggings is easily answered with a resounding yes!
 
Stylish, versatile, and super comfy, leggings are the perfect addition to the wardrobe of a woman in her 60s. The key is in the details — the fit, the styling, and the overall look.
Tailoring The Look
When it comes to styling, matching up leggings with long tops, tunics, and shirt dresses adds a touch of modesty and an elegant silhouette. Layer up with stylish cardigans or jackets to create a balanced and fashionable outfit. Be at ease while you express yourself through fashion. 
Accessorize!
Accessories become your style companions in your 60s. An expertly chosen scarf, a classic watch, or an elegant piece of jewelry can bring out the best of your leggings outfit effortlessly. Choose accessories that complement your overall look and reflect your individuality. 
Should A 70-Year-Old Woman Wear Leggings?
Wearing leggings in your 70s is no longer frowned upon and is considered a fashion staple that's right on trend.

Leggings are comfy, practical, and worn by women of all ages while also opening doors to a range of stylish outfits. We have some tips on how to wear leggings casually and formally as a 70-year-old woman with leggings.
Prioritizing Comfort and Fit
Comfort is always paramount, regardless of age. Choosing leggings with a comfortable waistband and stretchy fabric are things to look out for. High-waisted styles are a game-changer for additional support, making them THE choice for women in their 70s. Prioritize fit to ensure the leggings work with your natural shape, not against it, while providing ease of movement. 
Elegance In Style
Styling leggings for a more mature audience involves putting your outfit together more thoughtfully. Longer lengths on top that flow well add elegance to your look. Look smart when layering with tailored blazers or chic cardigans for a polished and classic style. The goal is to strike a balance between comfort and sophistication. 
Classic Footwear Choices
When it comes to footwear, classic options like comfortable flats or stylish low-heeled boots can complete the look. These choices are not only immensely comfortable but also contribute to an age-appropriate and chic appearance.
Celebrating Individual Style
Fashion is a form of self-expression, and at 70, your style journey is uniquely yours. Experiment with colors, prints, patterns, and textures that express your personality. Whether you prefer a classic monochromatic look or enjoy a pop of color, let your leggings act as part of the fashion canvas for your individual style. 
How Do You Wear Leggings and Look Classy?
Wearing leggings with sophistication involves paying attention to the details. Here are some tips to ensure you look classy in leggings: 
Choose Quality Fabrics
Investing in leggings made from high-quality fabrics is essential. Fabrics like ponte or thicker jerseys maintain their shape well, ensuring your leggings don't look too casual. This step instantly smartens your entire outfit. 
What Tops To Wear with Leggings
When it comes to selecting the perfect top to complement your leggings, the options are endless. Longline tops, tunics, and flowy blouses are excellent choices.
 
They provide coverage where you want it while adding a touch of sophistication. Experiment with textures, patterns, and different necklines to create a look that suits your personality. 
How To Look Trendy at 50
Turning 50 is a milestone, and embracing fashion trends is a wonderful way to celebrate this stage of life. Leggings can play a crucial role in keeping your wardrobe current and trendy. Here are a few tips to maintain a chic and stylish appearance: 
Mix and Match
Combine classic pieces with trendy items to strike the perfect balance. For instance, pair your favorite leggings with a timeless white button-down shirt and a statement necklace. This juxtaposition of classic and contemporary elements creates an effortlessly chic look. 
Add Some Color
Don't be afraid to experiment with color. While neutral tones are timeless, adding a pop of color to your outfit can infuse vibrancy and energy into your overall appearance. A brightly colored top or a bold accessory can make a simple leggings ensemble stand out. 
Accessorize Wisely
Accessories are your best friends when it comes to elevating an outfit. A stylish belt, a classic handbag, or a trendy scarf can transform a basic leggings-and-top combo into a fashion-forward statement. Choose accessories that reflect your personal style and add that extra flair. 
Your Style Journey Is Truly Yours
With the current fashion trends, age will never be a barrier to wearing leggings. Leggings, when styled thoughtfully, can be a fantastic addition to the wardrobe of a 50, 60, or 70-year-old woman.
 
Try different looks, play around with accessories, and, most importantly, have fun with your style journey. Whether you choose to wear leggings casually or dress them up for a night out, the key is to feel confident and comfortable in what you wear. So, try on our fabulous leggings, and let your style shine at any age!