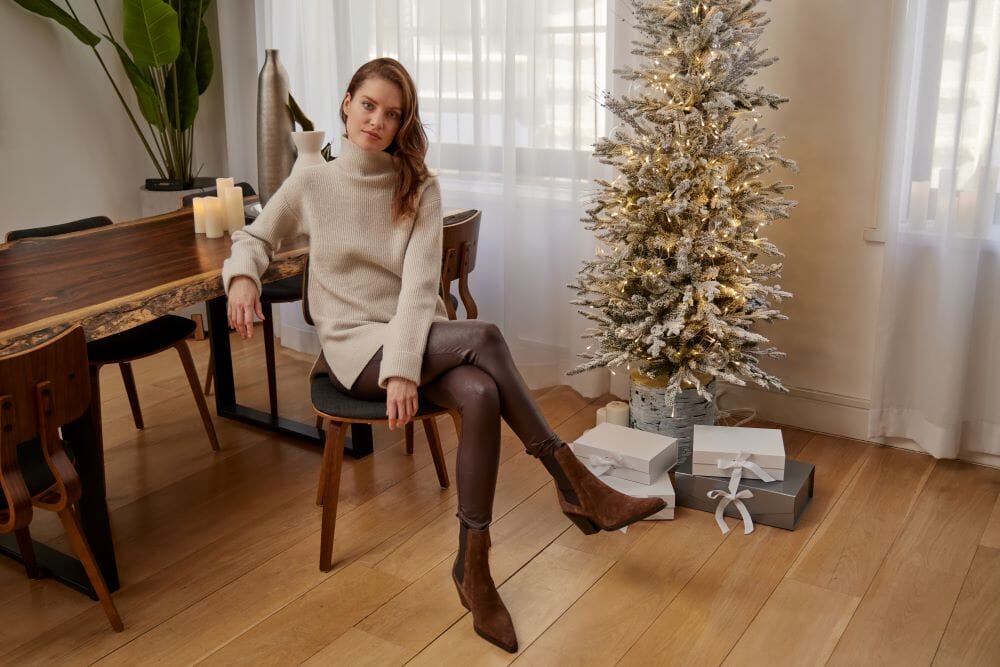 Are High-Waisted Leggings More Flattering?
Wondering how to make leggings more elegant and flattering? With dressy leggings in your wardrobe, you have all the high-waisted elegance and trending fashion you need. These fabulous fashion finds have become the ultimate go-to piece of comfort wear, and they're here to stay. From being a gym must-have to a prominent feature on the catwalk, dressy leggings have made quite the journey.
 
Gone are the days when low-rise leggings took center stage. High-waisted leggings have confidently swooped in to steal the show. They bring with them a whole world of possibilities, offering more than just comfort and style. Not only are they perfect for booty-building strength training at the gym, but they've also evolved into the ideal choice for everyday wear. From running errands to presenting in the boardroom, high-waisted leggings work for every occasion.
Are High-Waisted Leggings Flattering?
Absolutely! High-waisted leggings work magic on your body by accentuating your natural curves, creating a flattering silhouette that can make anyone look and feel amazing. We bring you a few reasons why high-waisted leggings are a top choice. 
Tummy Control for the Win
For many women, high-waisted leggings with tummy control are a winner in the wardrobe. With key features such as gentle compression, smoothing out any lumps or bumps, and giving you that extra boost of confidence, you can say goodbye to midsection worries because high-rise leggings have literally got you covered. 
Accentuating Your Waist
These leggings are all about drawing attention to your waist, making it appear slimmer and more defined.
Versatile and Stylish
High-waisted leggings are one of the most versatile pieces in your wardrobe — dress them up or down for the perfect choice for any occasion. Throw on a crop top for a casual day out, or pair them with a chic blouse for a more formal look. 
What Is the Point of High-Waisted Leggings?
High-waisted leggings might look great, but they're so much more than that. Practical and comfortable — if you don't have them in your wardrobe already, the question we ask is: why? Here's why you need to add a few pairs of high-waisted leggings to your collection. 
Extra Coverage
Ever have those days when you need a little extra modesty? No more stressing about unintentional skin flashes when you bend, stretch, or move to your favorite tunes – high-waisted leggings are your modesty and coverage must-have! 
Postpartum Perfection
To all you new mothers out there, high-waisted leggings are an absolute game-changer. They provide much-needed support to your abs through those postpartum changes.
 
Whether you're still healing from birth or simply looking for that extra level of comfort with your babe in arms, high-waisted leggings are here to support you every step of the way through your new and exciting journey. 
Workwear Wonder
Are you on the prowl for the ultimate high-waisted leggings for the office? From adding a chic blouse on top or pairing your leggings with a sleek blazer, high-rise leggings transform your outfit. These leggings are a stylish and comfortable choice for women — the best high-waisted leggings for work just got easier to wear! 
LYSSE FIT
Patented 5-inch concealed waistband for 360° smoothing
Anatomical Seaming
Pull-on Styling
Strategically Placed Pockets & Detailing
4-way Stretch
Machine Washable
Are High-Waisted Leggings Better?
High-waisted are clearly the winner when deciding between different leggings styles. Millions of women are fans, and it's not hard to see why. 
Comfort and Confidence
High-waisted leggings are your one-way ticket to comfort and confidence rolled into one. With their fabulous tummy control and oh-so-flattering fit, you'll feel absolutely fabulous and totally at ease. Women, the best high-waisted leggings with tummy control take the weight off your mind! 
Versatile Wardrobe Staples
Whether you're on a casual outing when you just want to chill or glamming up for a more formal event, versatility is the middle name for high-waisted leggings. From heading out to a coffee catch-up or a fancy dinner with the girls, high-waisted leggings are up to the task. 
Extra Support
For those moments when you need a little extra support, high-waisted leggings come to the rescue. Whether you've recently welcomed a little one into the world or crave extra stability during your workout sessions, these leggings are your go-to solution. They've got your back, your tummy, and everything in between. 
Where Should High-Waisted Leggings Sit?
Okay, we've got the good things down for these fabulous high-rise leggings, but where should they actually sit on your body? Well, the answer is just above your natural waistline. This placement ensures that you get the maximum tummy control and a super flattering shape.
 
The goal here is to accentuate those curves while making sure you're comfy as a couch potato on a Sunday afternoon. So, wear them securely without squeezing the life out of you.
How Are High-Waisted Leggings Supposed to Fit?
The fit of high-waisted leggings is like the cherry on top of the cake – it's essential! They should be snug but not overly tight. You want them to provide support and tummy control, but you also want to be able to move freely and comfortably. When you're trying on high-waisted leggings, keep an eye out for these signs to ensure they fit like a dream: 
No Bunching
Your leggings should never bunch up or wrinkle around your waist. These are some signs your leggings are too big.
No Gaping
On the flip side, there should be no gaping or rolling down at the waistband. That's an indicator that the leggings are a smidge too small, and that's a recipe for discomfort.
High-Waisted Leggings: Your Fashion, Comfort, and Confidence All in One
Whether you're in it for comfort, style, or a trusty workout companion, high-waisted leggings have got you covered all over. Get ready to rock those high-waisted leggings and conquer the world with your newfound confidence and charm. Browse our selection of high-waisted leggings today.