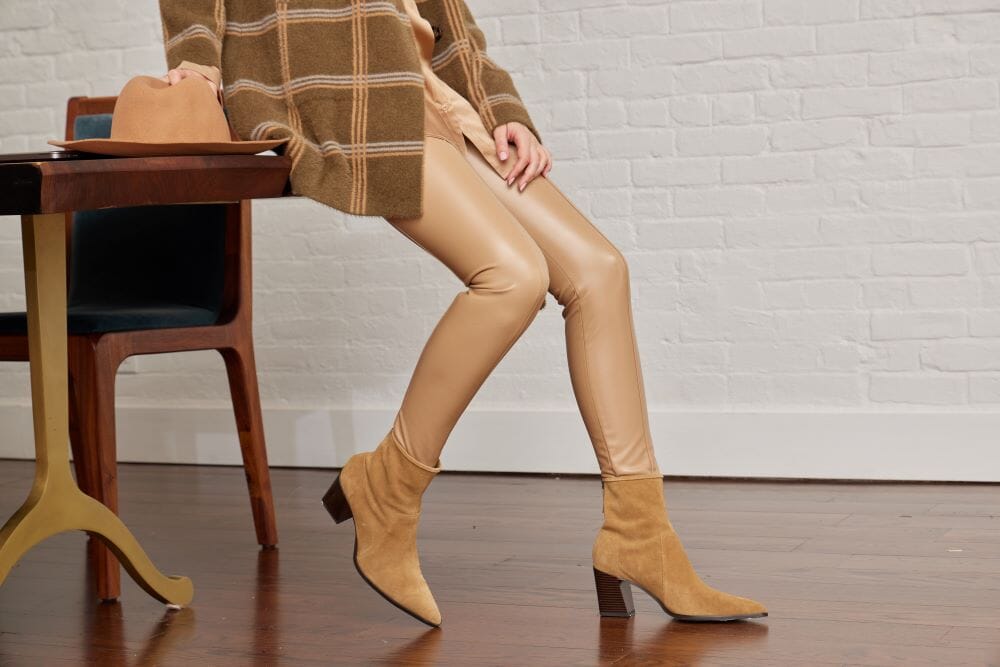 How To Wear Leggings Over 55
Age is nothing but a number in fashion, and the same applies to leggings. If you're wondering how to wear leggings for older women, dressy leggings are a good option and have established themselves as a symbol of fashion and coziness. The versatility of leggings gives older women countless fashion options, and they are far from being restricted to the gym or the couch.
 
It's time we all stopped feeling restricted and discovered how to wear dressy leggings over 55 with flair, confidence, and panache.
Leggings for Older Women: A Style Revolution
Leggings have gone from being mere athletic wear only for sweaty gym workouts to being a style statement found in some of the fanciest stores. Women over 55 are enthusiastically joining the fashion revolution because these aren't just any old leggings — they're a form of self-expression and a testament to comfort meeting style. 
Shoes To Wear With Leggings
Choosing the ideal pair of shoes is frequently the most important step in creating a stunning leggings outfit. Comfort is of the utmost significance for women over 55 without sacrificing style. Choose fashionable yet comfortable footwear, such as chic sneakers, elegant loafers, or ankle boots. Every step can make a fashionable statement! 
Tops To Wear With Leggings Over 55
Finding the perfect top is essential when styling leggings for a woman over 55. Consider longer tops that provide coverage and create a streamlined silhouette. For both comfort and style, tunics, flowy blouses, and oversized sweaters are all great choices that work as tops to wear with leggings. 
How to Wear Leggings Over 55 In Winter
Winter calls for warmth and style, and leggings for older women are a must-have. If you want to wear leggings in the chilly season, we recommend layers, winter boots, and more. 
Layered Luxe
Experiment with different types of layering. Add a long cardigan or a chic faux fur vest over your leggings for an extra touch of warmth and glamor. 
Winter Boots
For the ultimate winter look with leggings that are reminiscent of snowy Nordic fashion, pair your leggings with knee-high boots or stylish winter boots. Not only will you be warm and cozy, but you'll also have a trendy edge to your winter look.
 
How To Dress Up Leggings Over 55 in Winter
For a touch of sophistication and class, dressy leggings in velvet or faux leather are ideal. Pair them with a cashmere sweater or a sequined top for a luxurious winter party-ready look.
 
Jackets and coats will see you through winter in style. For the perfect outer layer over leggings, invest in a statement coat or jacket to give your outfit that extra pizzazz and warmth. A vibrant or classic coat can transform the entire outfit. 
How To Wear Leggings Over 55 In Summer
Summer is all about lightness and comfort. Here's how to stay cool while looking chic: 
Capri Cool
Shorter-length capri leggings will help you to beat the summer heat. You want to stay airy, so breathable tunics or flowy blouses are practical and perfect for a relaxed yet stylish appearance. 
Sandals Galore
Swap out winter boots for stylish sandals. Comfortable yet fashionable, sandals are the perfect summer companion for your leggings — just don't forget that all-important summer pedicure to complete the look! 
How To Dress Up Leggings Over 55 In Summer
Printed leggings add a playful summer look. For a seamless look that isn't too busy or mismatching, pair your prints with solid-colored, breezy tops for a balanced and vibrant ensemble.
 
Top off your summer leggings outfit with a chic hat. It not only adds flair but also provides sun protection by keeping you in the shade, making it a practical and stylish accessory.
What Type Of Dresses Look Good With Leggings?
Tunic dresses are a match made in heaven with leggings. They provide the right balance of coverage and style, making them a wardrobe staple for women over 55.
 
Shift dresses aren't too clingy and look incredibly chic with leggings. They offer a relaxed yet elegant look when paired with leggings, making them an excellent choice for various occasions.
What Kind of Top Looks Best With Leggings?
Who doesn't love the comfort of oversized tops? Whether it's a big, baggy, yet very cozy sweater or a stylish, loose-fitting blouse, these tops provide a relaxed yet fashionista vibe.
 
Dressy tops to wear with leggings will make any outfit go from drab to fab! Sequined blouses, silk tunics, or embellished tops can transform your look from casual to chic in a single step.